GYUDON (牛丼) JAPANESE BEEF BOWL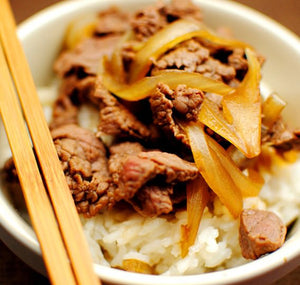 This is our son's favourite food in the world. It's a simple recipe and can be prepared and cooked in under 15 minutes.
Gyudon is a sweet and savoury dish consisting of thinly sliced beef cooked in a mixture of soy sauce, mirin, sugar and sake. When we lived in Tokyo, this dish was our go to comfort food. It's fast and totally delicious.
Author:
 Jon Kawaguchi
Serves: 4 Prep:

 1

0 minutes Cook: 5 minutes
Tips
Method:

 when you make Japanese rice, follow my grandmother's advice, and be sure to rinse the rice at least three times or until the water runs clear. After the rice has finished cooking, don't forget to fluff the rice with a rice spoon or fork and close the lid until you are ready to eat.
Beef:

 use a fattier cut of beef for better taste. Ask your favourite butcher to thinly slice it and when you prepare, cut against the grain.
Ingredients
1 cup Japanese rice
1 1/4 cup cold water
1 1/2 cups dashi (mix instant dashi powder in warm water)
1/4 cup soy sauce
1/4 cup sake (or substitute rice vinegar)
1/4 cup mirin
1 tbsp sesame oil
500g thinly sliced beef (cut against the grain)
1/4 cup sugar
1 medium or large onion (thinly sliced)
Shop for:
Japanese Gyudon Ingredients
Instructions
Cook rice.
Combine soy sauce, sake, mirin, and dashi in a bowl. Set aside.
Heat sesame oil in a frying pan over high heat.
Add thinly sliced beef and stir constantly for about 1-2 minutes until the beef has browned.
Add 1/4 cup sugar. Stir.
Add sliced onion and stir constantly for 1 minute or until the onion softens.
Pour the soy sauce, sake, mirin, and dashi mixture into the pan. Lower heat and simmer until ingredients cook through (@ 5 minutes). Use a spoon to skim off any scum or fat from the surface.
Fill your bowls with rice.
Spoon the gyudon over the rice. Make sure to add some of the sauce. Sprinkle with shichimi togarashi (Japanese chili flakes) and serve with a side of sliced pickled ginger.
Enjoy!