Ice Cream - no ice cream maker needed!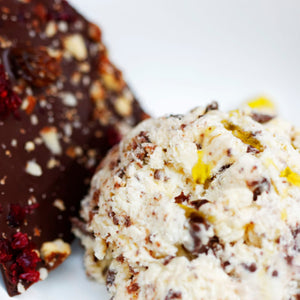 This recipe comes from Vegeterranean Notebook by Jolanda Vitaljic. From the author: 
Mediterranean recipes based on veggies and wild herbs, perfect for vegetarians in your life! Printed on recycled paper to help protect the Earth in every way possible! Designed in bullet journal way it contains index and numbered pages, so you'll always be able to find your recipes in a beat, 'cos apart from traditional recipes you can also write down your own.
Author:

 

Jolanda Vitaljic
Serves: 2 Prep:

 

15 minutes
Tips
Add fresh mint leaves and trickle some olive oil over the finished ice cream! Absolutely delicious!
Ingredients
6 eggs (whip the whites separately)
500 g mascarpone
0,5 l whipped cream
300 g sugar + a pinch of salt
500 g baking /dark chocolate / use a knife to cut into bits
organic lemon zest (optional)
Instructions
Beat the egg yolks with sugar until they turn quite light yellow. Don't hold back.
Add to it the mascarpone, then slowly whisk in the cream, egg whites, and finally add the chocolate bits and lemon zest.
It's already yummy, before you even freeze it :)
If you're using a simple freezer, no ice cream maker, make sure you go in and give it a good stir every now and then to stop the cream from crystalizing - every ice cream maker's worst nightmare ;)
And don't be afraid of sugar and eggs, they help make everything creamy :)